Sonnenblick Development in the news
Boutique Hotel Project on Greater Los Angeles' Sunset Strip Expects September Opening
The owners of the upscale West Hollywood Edition Hotel and Residences in greater Los Angeles have secured a $300 million, floating-rate loan just months ahead of the boutique property's anticipated grand opening in September, when it will join several competing developments on the famous Sunset Strip.
Global commercial real estate advisory firm Newmark Knight Frank arranged the refinancing on behalf of the owner, a partnership between New York developer Witkoff and Miami investment company New Valley. The loan was provided by investment bank and financial services company Deutsche Bank and stock brokerage and investment banking Mirae Asset Daewoo in South Korea.
The 190-room hotel with 20 luxury condos is under construction at 9040 Sunset Blvd., in West Hollywood, a tony city between Hollywood and Beverly Hills in the heart of metropolitan Los Angeles,
The developers said they opted to refinance to retire a construction loan following the completion of the project this year.Edition Hotels is a brand by hotelier and real estate developer Ian Schrager, who was also the co-founder of New York's famed Studio 54 nightclub, in partnership with Marriott International. The West Hollywood property will feature a rooftop pool, a fitness center and spa, and views from downtown to the Pacific Ocean.
"The world-class hotel and condo development represents a truly one-of-a-kind experience for visitors and tenants," Dustin Stolly, vice chairman and co-head of debt and structured finance at Newmark Knight Frank, said in a statement.
The development is among several new projects headed to the Sunset Strip, an indication of the strong demand and high prices the coveted West Hollywood market can dictate. Among other projects are actress Gwyneth Paltrow's Arts Club, a London-based social club and hotel development, and the proposed $300 million 8150 Sunset Blvd. commercial-residential project that could replace a retail center with a landmark Lytton Savings bank.
Sales prices for hotels in the area are among top in the county. For instance, 1 Hotel West Hollywood, formerly known as the Jeremy West Hollywood Hotel, at 8490 W. Sunset Blvd., sold for $283 million, or $989,510 per room, in 2017, according to CoStar data.
With so much similar development proposed or underway, the project could face ample competition. It may also open up to a slowing economy that could push down nightly rates as U.S. economic growth nears a record 10-year streak that many analysts expect to cool in coming years.
But Bob Sonnenblick, chairman at L.A. development firm Sonnenblick LLC, who has toured part of the West Hollywood Edition project, said the "breathtaking" views from some of the units are part of the reason he thinks it could do well.
"With L.A. having the best year ever in terms of hotel tourism combined with the low-interest rates on loans, it ensures the success of the project long term," Sonnenblick said. "It's a fabulous combination."
Last year was the eighth consecutive year of record tourism for Los Angeles with 50 million visitors on record, according to the Los Angeles Tourism & Convention Board.
The project, designed by architectural designer John Pawson and architectural firm HKS Architects, also has more than 11,000 square feet of meeting space and approximately 16,500 square feet of hotel terrace space that could draw in additional crowds.
For the Record: The Newmark Knight Frank team was led by Dustin Stolly and Jordan
Roeschlaub, vice chairmen and co-heads of debt and structured finance, along with Nick Scribani and Chris Kramer, managing directors at NKF.
Press Release: San Diego, Calif. March 5, 2019
Crittenden Conferences Inc has announced that Los Angeles-based real estate developer Bob Sonnenblick, Chairman of Sonnenblick Development LLC, has been chosen to moderate their keynote conference panel at the upcoming Crittenden National Real Estate Conference on April 19th in San Diego, California.
The panel topic is:
New Southern California Construction projects for 2019. The conference will take place at The Hard Rock Hotel in Downtown San Diego.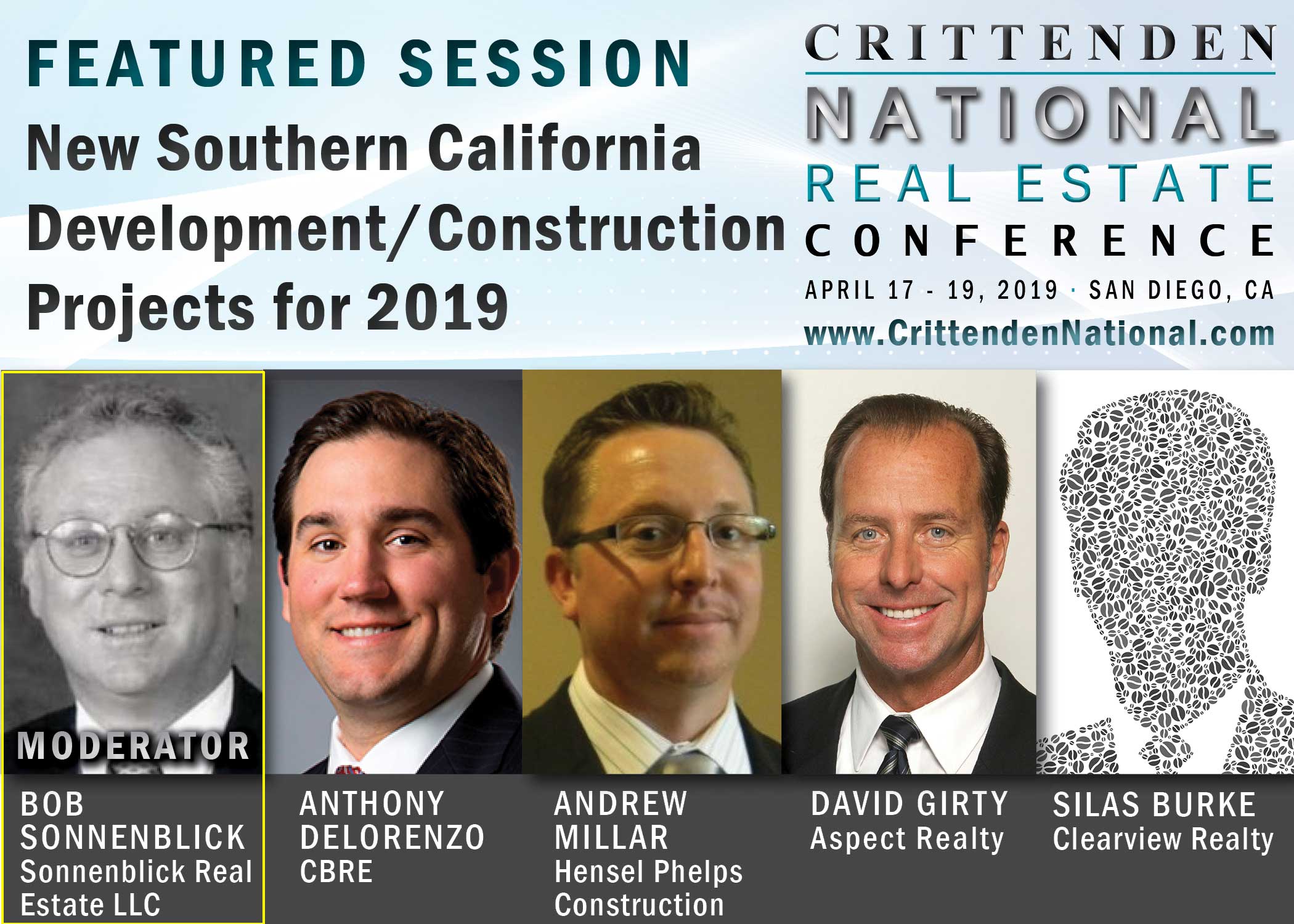 For more information, please see www.CrittendenNational.com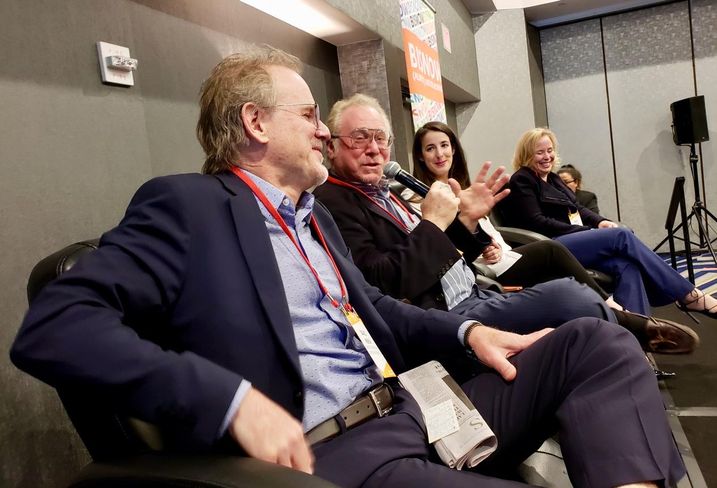 Photo: Bisnow/Joseph Pimentel
Carpenters/Contractors Cooperation Committee's David Kersh, Sonnenblick Development's Bob Sonnenblick, Greenworks Lending's Genevieve Sherman and R.D. Olson's Erika Urbani
Sonnenblick, a scion of a real estate family that dates back 125 years in New York, said he is opening a new office in the Brickell neighborhood of Miami and has put all of his investment and development efforts into South Florida. He is keeping an office and residence in Los Angeles for now.
"This is not by choice," Sonnenblick said after Bisnow's Orange County Construction and Development event, where he was a panelist. "It's almost as if the [SoCal] marketplace is forcing me out. I love living here as a resident, but in terms of doing new business here, specifically real estate development, it's almost impossible now, unfortunately."
The cost of doing business in California and specifically Los Angeles and Orange County was one of the main topics panelists discussed at the Feb. 12 event at the Irvine Marriott in Irvine.
Sonnenblick's decision mirrors the dilemma of many developers and general contractors who are facing the same challenges when attempting to develop new projects in California.
California has some of the highest construction costs in the nation. From 2011 to 2016, construction costs rose 13.6% in Los Angeles/Orange County compared to 12% nationwide, according to the Terner Center for Housing Innovation at UC Berkeley. Land prices in California have tripled in Los Angeles and the cost of materials is also going up about 4% to 5% per year, the Berkeley study showed.
Sonnenblick questioned the Berkeley study, saying from his experience construction costs have doubled in the past five years.
"I would give my arm if it only increased 3% a year," Sonnenblick said. "In the world I live in, if you look at the past five years, we probably averaged 8% to 10% per year compounded increases. Our biggest issues are materials and labor. Right now, labor costs are going up and the premiums that go with it."
A stiff labor shortage in the state's construction industry is fueling a sellers' market, R.D. Olson Chief Financial Officer Erika Urbani said.
"The shortage of labor is driving a lot of issues," Urbani said. "It's not just the cost going up. A lot of subcontractors are being overburdened with work. That causes a lot of issues with finding the right subcontractor."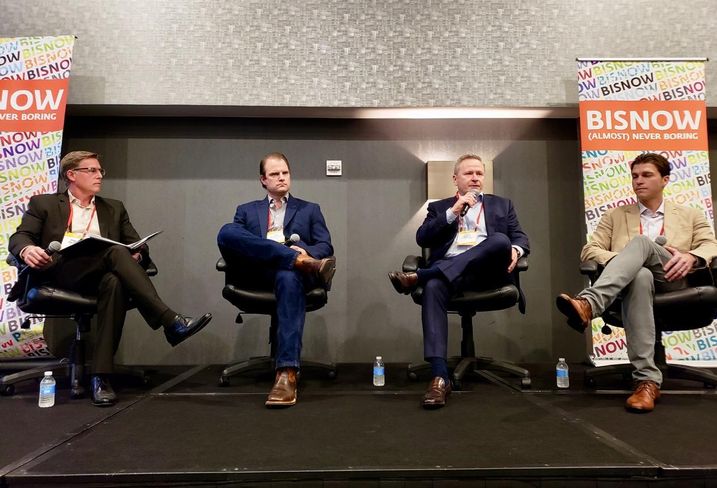 Photo: Bisnow/Joseph Pimentel
BNBuilders' James Awford, Frontier Real Estate Development's Dan Almquist, The Irvine Co.'s Chris Marsh and Raintree Partners' Jason Check at Bisnow's Orange County Construction and Development event
Nonprofit labor watchdog Carpenters/Contractors Cooperation Committee Executive Director David Kersh said labor should not be blamed for the rising cost of construction in the state.
Kersh mentioned a recent report that thousands of workers were victims in a $12M wage theft case. In this case, the state of California ordered a subcontractor, RDV Construction, to pay the workers nearly $12M in back wages and penalties, according to the LA Times.
"Right now we have an epidemic of wage theft in the mixed-use [multifamily] and hotel industry so the idea that the workers are the cause or the problem for the rise of labor costs is totally off."
Though it is difficult to find one single factor to blame for the rise in construction costs in California, the panelists said there is an upside to developing in the various markets in the state.
Sonnenblick said rental rates for retail have gone up. Multifamily projects are in high demand, especially in Los Angeles and Orange County.
There are lending programs such as Commercial Property-Assessed Clean Energy, or C-PACE, that could offset some costs while having a green and energy-efficient building. C-PACE is a type of financing tool that allows a building owner to borrow money for installing energy-saving infrastructure and pay back the investment through a property tax assessment charge.
Sonnenblick said for his company the cost of construction in Orange and Los Angeles counties along with frequent resident opposition and the length it takes to construct and open a ground-up development are still too much.
"We are in a bizarre time," he said. "There was a time you would find a site, call up your general contractor and the numbers would work. [But now,] those numbers, at least in Orange County and Los Angeles, don't work."
Sonnenblick said he decided to stop pursuing development deals in California about three to four years ago.
His company was in negotiations to build a hotel in downtown Los Angeles near the USC Medical Center.
"It was a nightmare," he said.
"Between the demands of the ridiculous land seller and the city approval process, we dropped the deal," Sonnenblick said without getting into specifics. "I said, 'Forget about this.' I went down to Miami, we were greeted by the mayor with open arms and we found a similar site and now we're zooming 100 miles per hour."
Sonnenblick said in today's landscape in California, it takes a developer eight to 10 years to start making good cash flow off a development project.
"It's insane, especially when I can go out to various metropolitan areas nationwide such as South Florida, Dallas, downtown Denver and in all of those places you can buy a piece of land and be under construction in one year," he said. "Here to get through the entitlement process, NIMBYs and local community groups, it takes you in the best case three years."
Sonneblick said he is keeping his existing portfolio of buildings totaling about 1M SF in Los Angeles and Orange County. His group is currently working on a $40M, 70K SF mixed-use office and retail project on Jamboree Road in Irvine. After nearly three years in the process, the company is still waiting for final city approvals, he said.
But in terms of new business, all of his other projects — about $400M worth of developments such as government buildings, office buildings, hotels and retail — are exclusively in Miami and Fort Lauderdale.
"I'm going to keep my headquarters here in Los Angeles," he said. "I really do like living here. I'm probably going to split my time six months in each place. … I wish I had some opportunities to build here in LA. There is no such thing as a bargain acquisition of land or buildings. Everything is overpriced and we don't buy assets that are overpriced."
Even with Gov. Gavin Newsom wanting to build new housing and state Treasurer Fiona Ma wanting to keep businesses here, Sonnenblick wasn't sure there was any way to keep his business in California.
"I don't think there is an answer," he said. "The only thing that is going to keep developers here is if the price of land and price of construction comes down and that's only going to happen if we go into a recession. I don't think the governor or any of the state officials can control that."
Sonneblick said he hasn't fully given up on California.
"If you know anyone with any good deals here please feel free to call me. We are always actively looking for new projects," he said.
A March Ballot Measure in West Hollywood May Put Social Club Project in Jeopardy
Voters in West Hollywood, California, will decide whether the city should rescind its approval for the construction of the Arts Club, a London-based private social club backed by Academy Award-winning actress Gwyneth Paltrow that's proposing a development designed to upgrade the Sunset Strip at the site of a retail outpost of the adult magazine Hustler.
Paltrow, an advisory board member to the London location and founder of the Santa Monica, California-based lifestyle company Goop, has been working with other investors to open the high-profile, 120,000-square-foot social club in greater Los Angeles. Critics of the project argue the site should be used to address the area's shortage of housing.
The project is attracting attention well beyond West Hollywood partly because of the prominence of Paltrow as well as the street spanning a mile and a half that came into the national consciousness in the 1950s and 1960s with the television series 77 Sunset Strip. This section of Sunset Boulevard runs between well-known areas, connecting with Beverly Hills on the west and Hollywood on the east.
The club's proposal, which includes a rooftop swimming pool and guest rooms, requires changes to local zoning that the West Hollywood City Council originally voted to approve this year. But following a petition and criticism from residents and a labor union, the council agreed to allow voters to decide whether they should rescind their original decision on the social club project by issuing a city measure for the March ballot.
The measure before voters is whether the resolution approving the project should be rescinded, according to Yvonne Quarker, West Hollywood city clerk. The city's general plan and other zoning regulations would have to be amended to allow for increased height and density over what is currently allowed on the site, the city said. About 8,150 square feet of the property was zoned for multifamily residential.
The project would require demolition of the existing two-story 20,000-square-foot office and retail building, which includes a 10,000-square-foot lingerie and sex toy shop operated by Hustler Hollywood as well as offices for the Gay Men's Chorus and the Plus Development Group involved in the Arts Club project, according to CoStar data.
About a handful of West Hollywood residents as well as members of labor union Unite Here 11 urged the City Council to put the matter to a ballot measure. More than 2,800 signatures were gathered on a petition presented by Unite Here, according to Quarker.
Elle Farmer, research analyst for Unite Here Local 11, said among the union's issues with the project is zoning. About one-third of the land at that site was zoned for housing.
"Despite a housing crisis, that land is being rezoned for this project for a private commercial development," Farmer said. "Now West Hollywood voters can decide whether it's a good use of their resources."
But Steven Afriat, chief executive of Burbank-based Afriat Consulting Group Inc., a local representative for the Arts Club, said the project has "tremendous community support" and that the proprietors welcome the West Hollywood City Council's decision to put the project up for a vote as opposed to rescinding it.
Downtown Los Angeles-based Gensler designed the proposed project, at 8920 Sunset Blvd ., to include 14 guest rooms, screening rooms, restaurants, office space, an art gallery and a rooftop swimming pool. It will also have operational decorative glass panels as part of its design.
The Arts Club is also proposing a public benefits package that would total about $12.1 million, according to the City of West Hollywood. It would include building about 2,200 square feet of public gallery space that could also be used as a rehearsal space, and be programmed and staffed by the Arts Club for 25 years and free to the public. It would be curated in coordination with the City of West Hollywood Arts Division. The gallery space is estimated to cost $10.1 million. The Arts Club would also donate $1 million to support the arts in West Hollywood over 10 years and pay an additional cash public benefit of $1 million to the city.
Afriat said the Arts Club has also offered $1 million in traffic improvements.
The opening of the club would mark the British club's first American outpost.
The original Arts Club dates back to 1863 as a place where men involved in the arts, literature and sciences gathered in London, according to the Arts Club website.
Bob Sonnenblick, chairman at Sonnenblick Development LLC, has stayed at the Arts Club in London which he describes as a "lovely, luxury" hotel.
"The West Hollywood design is certainly beautiful, too," Sonnenblick said in an email. "If anything, dropping a project of that high quality here just might be too upscale for the current Sunset Strip neighborhood."
The measures is scheduled to appear on the March 5 general municipal election ballot.
If approved, construction could take up to two and a half years to build.
More From Bob Sonnenblick
I have actually stayed at the Arts Club Hotel in London.
It's an unbelievably lovely, luxury hotel, located in the Mayfair district of town, one of the City's most high-end areas…
The rooms & public areas in that hotel are gorgeous, & the service was fabulous. The West Hollywood design is certainly beautiful too.If anything, dropping a project of that high quality here just might be too upscale for the current Sunset Strip neighborhood.
In a nutshell, here is exactly what this dispute is all about:
The developer is proposing a private club. This is just like proposing a condo tower, it is not open to the public.
The opposition is the Unite Here #11 hotel workers union. They want the project to be union-employee staffed, so that their workers would be hired there…regardless of whether it is a private club or a hotel.
The private club has said that it will only hire NON-union workers to work there, once it is completed. The added cost of union worker wages and benefits is very high. Thus, the dispute.
The real truth is that The Union doesn't truly care if it's a private club or a public hotel.
This is only about Union vs NON-Union jobs, nothing more…
So if you are Pro Open-Shop hiring, then you like this project, as-is.
If you are Pro-Union hiring, then you don't like this project.
Its just that simple…