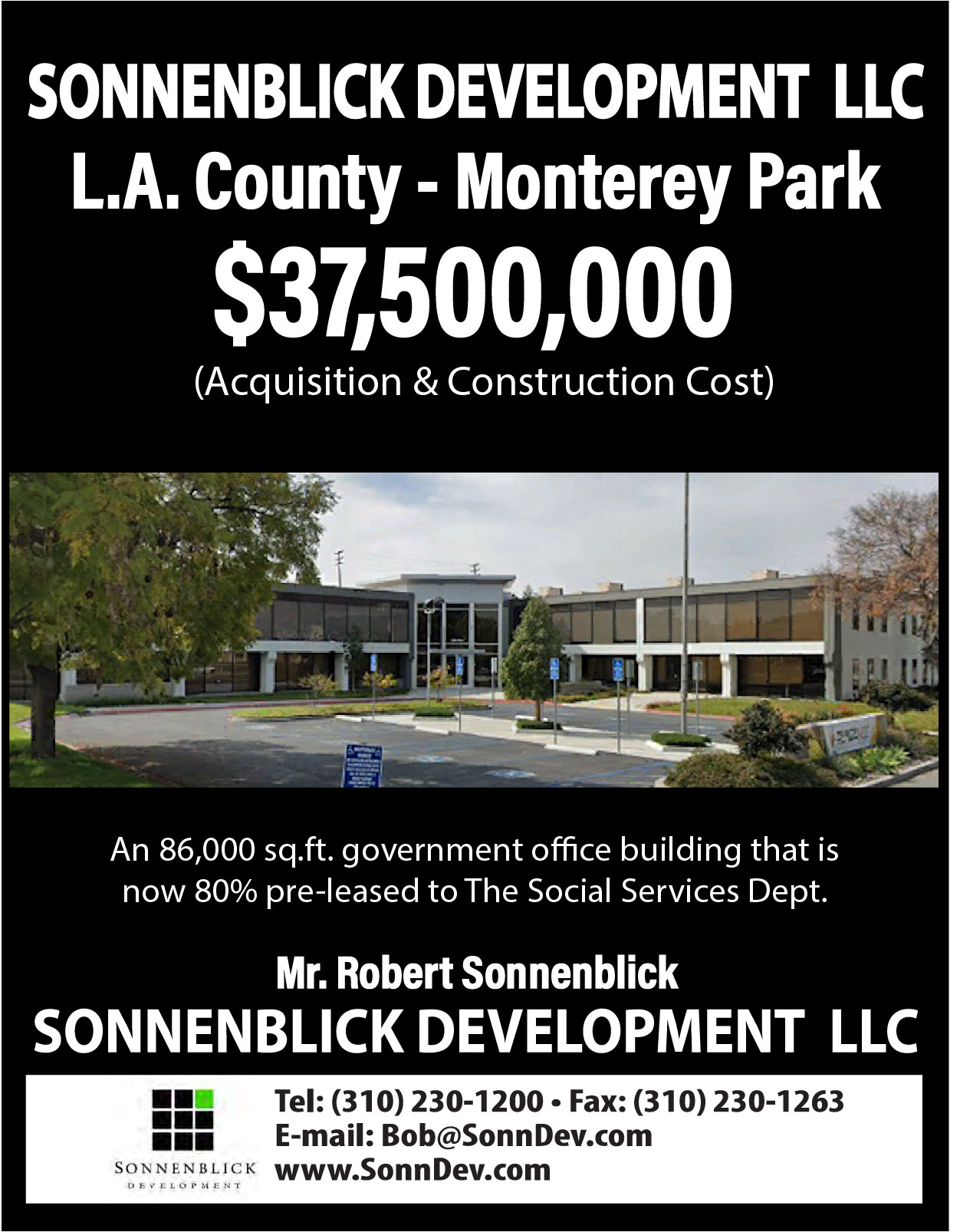 The Los Angeles-based real estate development firm, Sonnenblick Development LLC, is a highly recognized developer of office facilities for state, county and municipal public agencies throughout the nation. In addition, the firm has developed Major Retail, Residential and Hotel Resort projects.
For governmental/public agencies, our goal has always been to provide high quality, state of the art facilities at long-term, flat rental rates that are often significantly below prevailing market rates. To accomplish this, we have developed unique and innovative lease and financing structures.
PRESS RELEASE: Los Angeles, Calif. Wednesday February 13, 2021
Los Angeles-based real estate developer Sonnenblick Development LLC has acquired The Monterey Park Government Center, an 86,000 square foot, 2-story office building, located just east of Downtown Los Angeles, on the I-60 Freeway in a $37.5 Million deal.
80% of the previously-vacant building was then simultaneously pre-leased to The Social Services Department of the County of Los Angeles for occupancy by three of its divisions: GAIN, IHSS (In Home Supportive Services), & MIE (Mgmt, Info & Evaluation). Renovation of the building will take approximately 9 months, and the space will be ready for occupancy by the 2nd quarter of 2022. The general contractor will be KPRS Construction, and the building architect is Langdon Wilson & Associates. The property sits on 4 acres and is located at 588 Atlas Avenue in Monterey Park.
Sonnenblick Development is one of Los Angeles' largest developers of government-tenanted office buildings, with almost one million square feet of government space, housing tenants such as The Department of Homeland Security, The Los Angeles County Sheriff's Department, The FBI, The Dept. of Public Health, and The Social Security Administration, etc.
DEPARTMENT OF PUBLIC SOCIAL SERVICES
120,000 Rentable Sq. Ft.
Six-story Structure with One Floor Subterranean
Project Developer