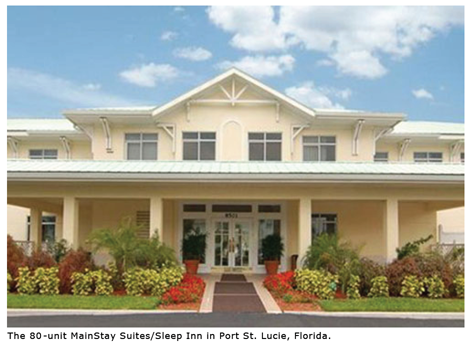 31 May 2013
New directions in dual-branded hotels
31 May 2013 7:16 AM
By Ed Watkins
Editor-at-Large
ewatkins@hotelnewsnow.com
Story Highlights

Owners of the MainStay Suites
in Port St. Lucie, Florida,
wanted another brand to
appeal to transient guests.
The Generation Companies
operates 27 hotels and all but
one is pure extended stay.
The Sacramento airport project
includes a 200-room Marriott
and a 135-room Hyatt Place.
GLOBAL REPORT—Dual-branded hotels—two or more properties under the same roof or adjacent to each other and under the same management—isn't a new phenomenon, but the concept has expanded in recent years. Innovations include splitting an existing hotel into two brands and building dual-branded properties with flags from different brand families. One examples of the former is a MainStay Suites in Port St. Lucie, Florida, that was reconfigured to include a Sleep Inn.
The latter concept—dual-branded hotels with different brand family flag includes a development at the Sacramento, California, airport that will have a full-service Marriott Hotel and a limited-service Hyatt Place; and a Clarion Hotel in Beachwood, Ohio, that will soon undergo a renovation to convert one wing of the hotel into a 120-room Hotel Indigo, an InterContinental Hotels Group brand.
Also, in Nuremberg, Germany, Foremost Hospitality broke ground on a side-byside Hampton by Hilton and a Holiday Inn Express.
Creating two from one
The MainStay Suites in Port St. Lucie was a perfect candidate to become a dual-branded hotel, said Mark Daley, president and CEO of The Generation Companies, owner of the hotel.
"The Port St. Lucie market is on I-95 and there are a lot of seniors who come down there in the winter, and while MainStay has a wonderful appeal to extended-stay travelers, it's not as well known as Sleep Inn, especially for people just pulling off the interstate needing a short-term place to stay," Daley said. "We felt the Sleep Inn name has a lot more brand-name recognition for that customer and also for the senior crowd."
The decision to split the hotel was a function of serendipity. During Choice's annual convention in 2012, the company introduced a new prototype building as a combination Sleep Inn and MainStay Suites. And, by coincidence, the Port St. Lucie MainStay was originally developed (Generation bought the property five years ago) with some rooms not having full kitchens as required by MainStay.
"The hotel was built using the Sleep Inn plans for one set of the rooms and the MainStay plans for the other rooms," said Mike Varner, head of domestic brand management for Sleep Inn. "They had the (dual-brand) concept but they only had the MainStay Suites flag. When the (new prototype) was introduced, they were very intrigued with combining the two flags in the one property."
Choice created a product improvement plan for the property that required the guestrooms follow the new prototype and that the public spaces reflect Sleep Inn's Design to Dream design package, Varner said. Daley said the renovation and conversion took about 90 days to complete. He declined say how much the project cost.
"We upgraded the lobby and breakfast area with the current Sleep Inn design scheme, so common areas are tilted more heavily toward Sleep Inn," Daley said. "And given that the Sleep Inn breakfast is a little more robust than MainStay's, we agreed with Choice that we would operate the breakfast to Sleep Inn standards."
Generation Companies owns or operates 27 hotels, all pure extended-stay hotels except the Port St. Lucie property. Daley said he views this project as "opportunistic based on the profile of this particular market. But we have other properties (for which) we would consider this type of thing."
Varner, too, views this as a unique opportunity for Choice, but he doesn't rule sanctioning similar projects.
"We would listen to just about anything because that's part of our DNA," he said. "At the same time, Sleep Inn has a very specific direction and MainStay is predominately a new-construction brand. It must make sense for the developer, the consumer and it's got to make sense for the brand in the long run. If we can get that win-win-win, it's something we can be supportive of."

Mixing brand families
If one strong brand family can generate a lot of business for a hotel, then two families can do even better.
That's the philosophy Robert Sonnenblick took as he started development of a dual-hotel project at the Sacramento International Airport.
Sonnenblick, who is president of Los Angeles-basedSonnenblick Development, is completing designs for a proposed 1 January groundbreaking on the project outside of baggage claim at the new $1-billion Sacramento airport terminal that opened in October 2011.
Sonnenblicksaid his company won the rights to develop the hotels, but the airport wanted two separate hotels: one full service and one limited service.
"Marriott came to us when we first won the (request for proposal) and said they wanted to do both the full-service and the limited-service, but the more the county and I thought about it we decided it would be in our best interest to have two separate reservations systems on the hotels," he said. "I look at the 10 million customers that Marriott has and the six million customers that Hyatt has, I want both of those reservations systems marketing the Sacramento airport and my hotels."
He said the full-service Marriott will have 200 rooms and substantial meeting space, while the 135-room Hyatt Place will have about 3,000 square feet of meeting space. Sonnenblickis currently seeking a third-party management company to operate both properties.
"My task is to find a management company that is approved by Marriott for full service and also approved by Hyatt for limited service. We've narrowed that down to three companies, and we are negotiating with them right now," he said.
The project is being privately financed, with a 99-year ground lease from the airport authority. Sonnenblick said separate commercial banks are providing debt for each side of the hotel, and a pension fund is an equity partner in the deal.
While the Sacramento project is Sonnenblick'sfirst dual-branded hotel, "I'm working on a second one right now that is a beachfront resort. It's different in that we're putting two major full-service hotels next to each other sharing the beachfront and sharing a golf course, but each is branded separately," he said.