Press Release: (New York, NY). August, 2013.
Los Angeles-based real estate financier and developer Robert Sonnenblick, chairman
of Sonnenblick Development LLC, has been chosen by IMN Conferences Inc. to speak at
their upcoming Real Estate CFO Forum in NYC on September 30th.
The conference will be held at the Downtown Marriott Hotel on West Street.
Mr Sonnenblick will be headlining the 12 noon panel on "Financing and Capital Raising
for Real Estate Projects".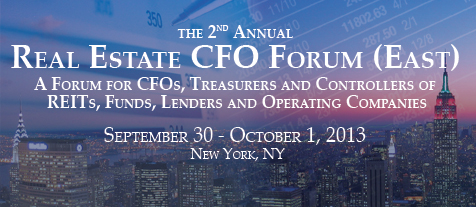 ---
Conference Venue:
Marriott New York Downtown
85 West Street
New York, NY 10006
Phone: 877-513-6305 or 800-266-9432
Website: http://www.marriott.com/hotels/travel/nycws-new-york-marriott-downtown
---
12:00 Capital Raising Techniques & Financing
[ Submit Session Question(s) ]
Health of the commercial real estate market * Finding available sources of financing * Raising third party capital * Alternative capital raising strategies * Markets for funds of various sizes * Fund structure * Co-investment opportunities * Marketing and strategy * Raising funds outside of the United States * Regulation, compliance and oversight * Reporting, governance & transparency
Moderator:
Steven M. Moore, Managing Director, Real Estate Advisory Group, KPMG CORPORATE FINANCE LLC [ BIO ]
Panelists:
Jason Tighe, VP Regional Finance Director, AREA PROPERTY PARTNERS [ BIO ]
Austin Khan, Chief Investment Officer, LAURUS CORPORATION
Frank Falbo, Partner, MAYER BROWN LLP [ BIO ]
Bob Sonnenblick, Chairman, SONNENBLICK DEVELOPMENT, LLC [ BIO ]