Justifying add-on fees to guests
20 Aug 2013
Hoteliers who add extra fees and surcharges to guests' bills need to communicate the rationale for the practice and provide value for the extra charges, sources said.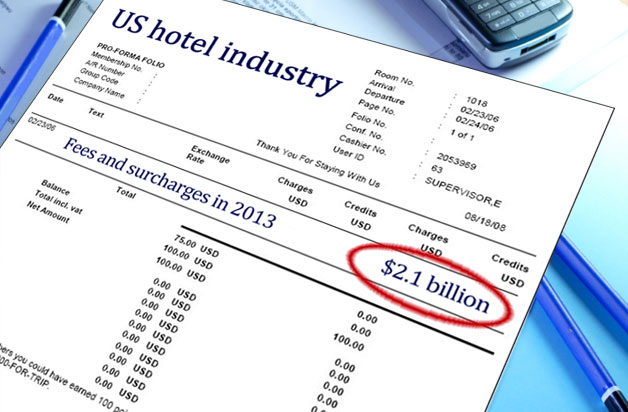 By Ed Watkins
Editor-at-Large
ewatkins@hotelnewsnow.com
REPORT FROM THE U.S.—Hoteliers who add fees and surcharges to guests' bills need to communicate why they do so and what value customers receive from the extra charges, sources said.
"Transparency is critical, especially with the younger generations of travelers, who expect everything to be transparent," said Henry H. Harteveldt, travel industry analyst with consulting firm Hudson Crossing. "Their friends share everything through social media and they expect companies to be completely open to them. Their mindset is if you're going to charge me for something you need to let me know what it is for and what value it represents and you need to tell me upfront."
According to new research, this year hoteliers in the United States will collect $2.1 billion in fees and surcharges from guests. That's up from $2 billion in 2012, a 6% increase, and nearly double from the $1.2 billion collected in 2000. The research is conducted annually by Bjorn Hanson, divisional dean of the Preston Robert Tisch Center for Hospitality, Tourism and Sports Management at New York University.
The total includes items such as resort fees, early cancellation fees, telephone surcharges, minibar re-stocking fees, in-room safe charges, automatic gratuities and charges for high-speed Internet access.
Hanson said in recent years hoteliers have become more effective in communicating fees and surcharges by placing tent cards in guestrooms, including information in guest directories, requiring guests to initial a form at check-in or simply "placing a collar on a bottle of water with the price on it."
"As a result, there is less of a sense that fees and surcharges are an ambush to get more revenues from guests," Hanson said. "(These fees) have become more well-known. It doesn't mean guests like them, but they've become used to them."
He said the intense media attention as airlines ratcheted up their fee schedules has made it easier for hoteliers to adopt the practice.
"The fact that airlines started implementing what can be viewed as more-aggressive fees and surcharges has heightened awareness of (the practice) but also almost made it a common travel standard, making it a little bit easier for hotels to implement fees and surcharges," he said.
Hotel marketing consultant Brenda Fields said it's important for hoteliers to provide fair value for fees they charge or risk a backlash from guests.
"The key for hoteliers is to get it right," Fields said in an email. "That is, charging appropriately, without gouging. Offer a product or service that works, and communicate it to the guest. Negativity can be overcome or minimized when there is a better understanding."
The best approach, Harteveldt said, is for hoteliers to explain to guests how bundling the fees gives them better value than paying for services on an a la carte basis.
He said some guests will accept some fees when they feel they're "paying for a product that provides some kind of added value, whether it's improving the quality of the stay or its efficiency."
Resort fees and charges for Internet service are the most controversial hotel fees, Harteveldt said.
"Resort fees are simply ridiculous because they are indirect rate hikes," he said. "Consumers generally don't like them, but especially when the property isn't even a resort."
Guest responses to resort fees fall into several categories, Hanson said. Some might not like extra fees but they understand it's become an industry practice, especially at resorts.
"Some guests actually like the resort fee because for them it's better than paying separately for a pool chair, towel or an umbrella or to receive faxes," he said. "And, of course, there are those who say, 'I don't want any of those services yet I'm being asked to pay for them.'"
Robert Sonnenblick, president of Sonnenblick Development, is especially vocal in his criticism of resort fees, calling them "a highly deceptive practice." He said he would never add a resort fee to any of the hotels he owns.
"My biggest problem is not the concept of resort fees; it is the concept of involuntary resort fees, and there is a distinction between the two," Sonnenblick said. "When you call to reserve a room, you ask for a room rate and if they then add on a mandatory $20 fee, the $150 room rate they told you on the phone becomes $170, which means they lied to you."
Even the perception of extra fees can upset some guests, said Birgit Radin, managing director of the DoubleTree Magnificent Mile and The Inn of Chicago, and a Hotel News Now columnist.
"It depends on how you define fees and surcharges," she said. "Some customers perceive an Internet connection charge as a fee; they perceive not including breakfast in the rate as a fee. They see it as a nickel and diming."
She said because many guests are accustomed to free Internet service and free breakfast when they stay at limited-service hotels, they don't want to pay for these things when they stay at full-service properties.
At one time, energy surcharges were another source of many guest complaints. In the early 2000s, some hotel companies and properties instituted these charges to offset rising utility costs. Facing consumer complaints and possible legal actions, hoteliers gradually dropped the unpopular add-on fee, and Hanson doesn't believe they'll be back.
"It's highly unlikely, unless there is some extraordinary spike in energy costs," he said. "It's a very sensitive issue. It would be very unpopular unless it could be justified by a significant jump in energy costs, but even then when there is a surcharge of $5 (per night) guests are wise enough to know it doesn't cost that for the energy they use in their guestrooms."