Session 101: Opening Keynote
The Post-COVID Real Estate Finance Marketplace
Moderator: Bob Sonnenblick
Chairman, Sonnenblick Development LLC
Real Estate Conference l Speakers
We would like to introduce you to some of our 2021 conference speakers!

Bob Sonnenblick – Chairman, Sonnenblick Development LLC
Mark Fluent – Head of West Coast Real Estate, Deutsche Bank Securities Inc.
David Eyzenberg – President, Eyzenberg & Company
David Moret – President, Highline Real Estate Capital
Donald Moses – Managing Director, Real Estate Private Credit, Arena Investors LP
Vic Clark –   Senior Managing Director & Head of Conventional multifamily production, Lument
Randy Wynne – Director of Revenue Management, RE Carroll Management
Jason Miller – Chief Investment Officer, Grand Sakwa Properties
Gary Bechtel – Chief Executive Officer, Red Oak Financial
Arthur Nevid – Head of U.S. Loan Origination, Romspen Capital
Alison Coen – Managing Director, Barclays
Solomon Garber – Senior Vice President, Northeast Bank
Greg Schecher – Director, Archway Capital
**Note: These are only conference moderators. Please visit our website for other speakers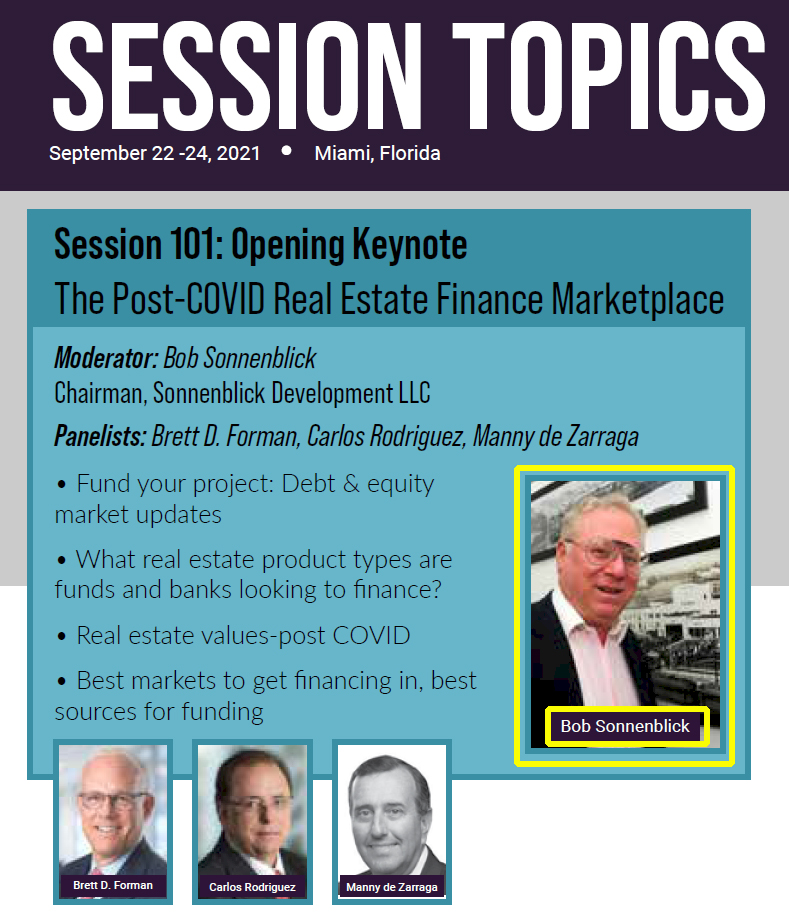 Don't miss out on these amazing speakers that are guaranteed to give you advanced industry information to help your business prosper and give you the necessary tools to build your company and succeed in today's ever changing market.
September 22-24, 2021 • Miami, Florida
2.5 days • 18 educational sessions • 65+ speakers • 5 networking events
We hope to see you there!

"The Crittenden Real Estate Finance Conference continues to be a fresh and high content event. Format and speakers bring the best of the best."
– Robert Kline, Cushman Wakefield
---
"You will learn more about the motivation, focus and risk tolerance of high level decision makers, lenders and investors in 36 hours than any other conference you can attend."
– David Repka, Bison Financial Group