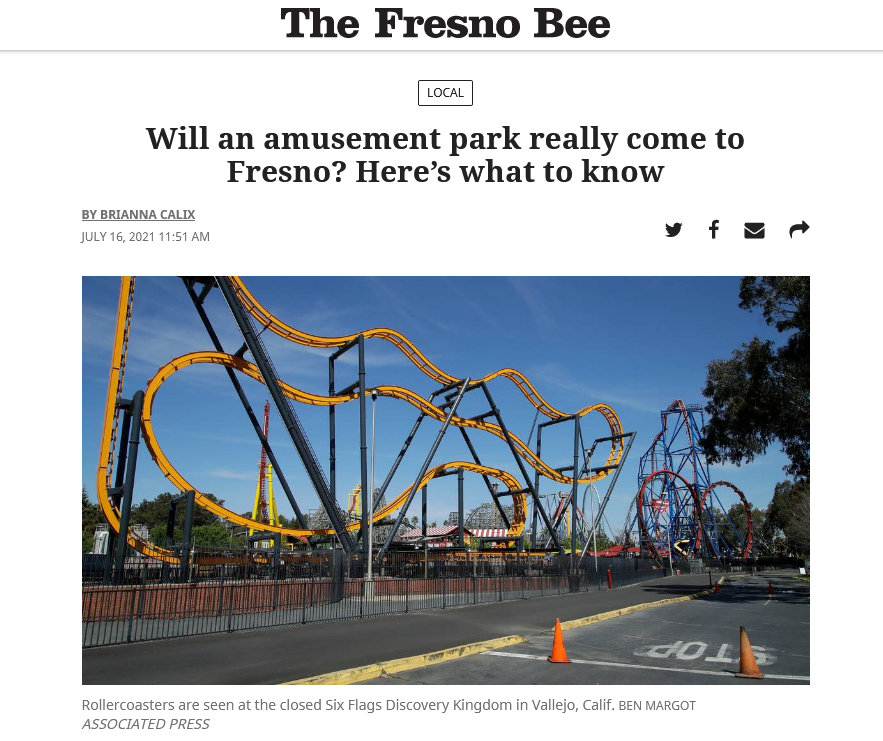 Fresno leaders on Thursday confirmed they "rolled out the red carpet" for a big-time investor interested in financing a bunch of new entertainment developments.
While nothing is set in stone, the potential of $300 million worth of projects would undoubtedly transform Fresno. Here's what we know so far.
Is Six Flags coming to Fresno?
We don't really know.
Mayor Jerry Dyer said he's legally prevented from discussing details of the entertainment venue, meaning he likely signed a nondisclosure agreement. The Bee reached out to Six Flags for comment but never got a response.
But what we do know is this: Investor Bob Sonnenblick visited Fresno earlier this year and has met multiple times with Dyer, Councilmember Miguel Arias, and LeeAnn Eager, the CEO of the Fresno Economic Development Corporation.
Sonnenblick has spoken publicly about working with Six Flags on other projects. He builds resorts and hotels. Plus, Sonnenblick made an offer to the city to buy Selland Arena.
Arias told The Bee potential projects could include an amusement park, indoor water park, and revitalized arena.
Eager said Sonnenblick and his representatives are excited about Fresno.
"They said 'Fresno on the precipice of being great,'" Eager said. "Of course, we always thought we were, but they said we would really love to get involved and help with development."