4 TRENDS SHAPING NYC HOSPITALITY
http://www.bisnow.com/new-york-real-estate/2012/03/27/4-trends-shaping-nyc-hospitality
Our 275 attendees walked into Bisnow's NY Hotel Investment Summit last Thursday at the Marriott Marquis to Creedence Clearwater Revival's "Have You Ever Seen the Rain?" But they won't find dark clouds in the sector. "We've bottomed out and the next six to nine months will definitely be an upside," said Sonnenblick Development chairman Bob Sonnenblick, who joined us all the way from Pacific Palisades, Calif. (It's amazing how willing people are to travel when they've got good news to share.)
1) LUXURY AND BOUTIQUE DEVELOPMENT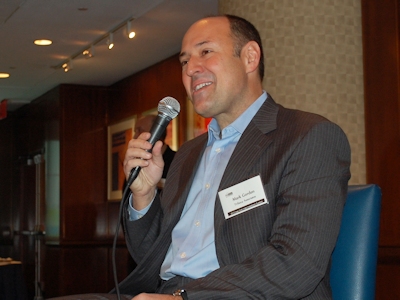 It's a unique period for NYC hospitality, says Tribeca Associates partner Mark Gordon—we're experiencing development that we haven't seen in previous cycles in New York, including the construction of four- and five-star hotels, which had already happened in other markets. "A dozen have opened or are under development," he says. Even non-traditional locations, like TriBeCa and SoHo, have seen new high-quality, independent hotels. (Like the firm's Smyth Hotel & Residences on 85 West Broadway.)
2) BIG NAME NOT REQUIRED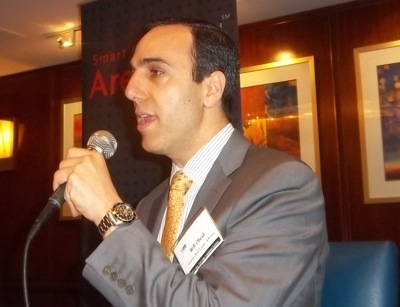 And NYC has the ability to absorb new supply—we saw 15,000 new keys between 2010 and 2011, all while increasing rates, Gemini Real Estate Advisors CEO Will Obeid points out. And you don't have to be a big name to operate here unless you're looking for a 600-room hotel, notes the owner of the boutique GEM Hotels. "The Ace Hotel on West 29th Street nailed it," he says. "It's got its finger on the pulse of the market and is a great brand." There once was a huge need for brands (and there's always a segment crazy about hotel rewards points), but the Expedias of the world minimize the need for those brand reservation systems. "You're your own travel agent now," Bob says.
3) SAFETY & DIVERSIFICATION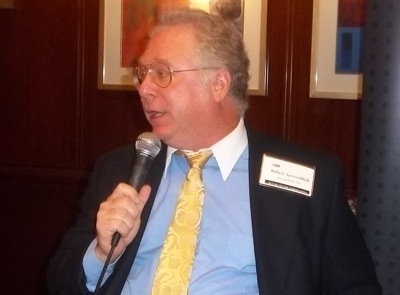 The challenge: equity investors and lenders see safety in traditional reservation systems, which may not work for a particular hotel, Will says. Outside of NYC, according to Bob (above), you need a flag to get a reaction from lenders. (No word on how banners or coats of arms affect them.) Barriers are not high in the outer boroughs, so they're getting more hotels than they need and the stabilization period is protracted, the panelists say. But nothing in New York is easy, Mark added. Tribeca Associates has a hotel under development on 20 W 53rd St, across from the MoMA, a mix of five-star hotel rooms and residential condos with hotel amenties. Mixed-use can be better from a lender's perspective—they love diversification of income.
4) LONG-TERM PERSPECTIVE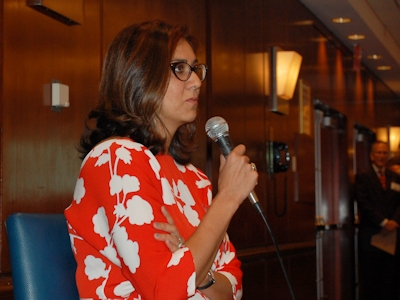 Moderator extraordinaire Sonia Kaur Bain, partner at Troutman Sanders. One switch Bob's firm has made was moving away from 25-story hotels into more low-rise developments with larger rooms—it lowers construction costs and numbers work out a lot better. And construction prices will increase for the foreseeable future. But for now, Will says he's still getting competitive pricing as subcontractors are hanging on by their fingernails. It's a great time to develop if you can acquire land at a reasonable price, he says, because financing is available. Keep in mind: it takes a year for design, approvals, and getting a flag on board; two or three years to build; and another two or three years to stabilize, Bob warns.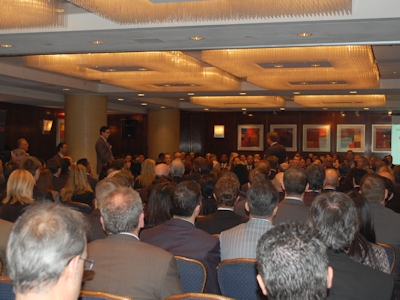 The bright-eyed and bushy-tailed crowd.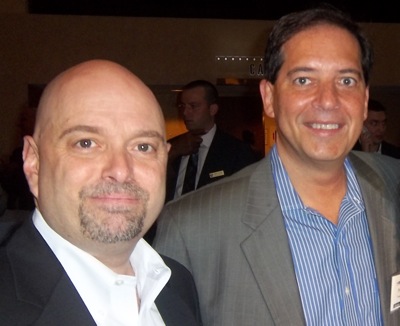 Among the audience, we snapped Eugene Nicotra and Fred Grapstein, both of whom work in hospitality for Vornado, which recently acquired a 42% interest in the Crowne Plaza. Fred tells us the firm's wholly owned, 1,705-key Hotel Pennsylvania hosted a record 1.1 million hotel guests last year, half from overseas. Fred says he also directs a 501(c)(3) women's college summer softball program that finished third in the country two years ago, and Gene is the proud papa of new baby boy Joey.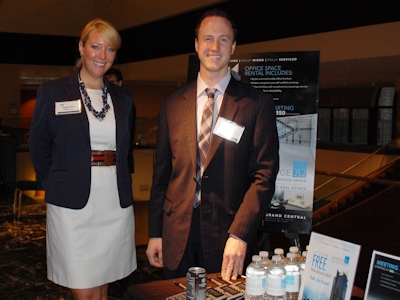 A big shout-out to our sponsors at Emerge212, which operates boutique office, virtual, and concept space at 1515 Broadway and 28 W 44th St. The firm's Keith Fearon, here with Meghan Betz, tells us that two new tenants have just signed at 1515 (next door to the morning's event): MunchNYC, a digitized restaurant club that will be offering daily deals of at least 25% off at NY's best restaurants; and Easy Vista (formerly known as Staff & Line), which provides IT service and asset management. Learn more about our sponsor here.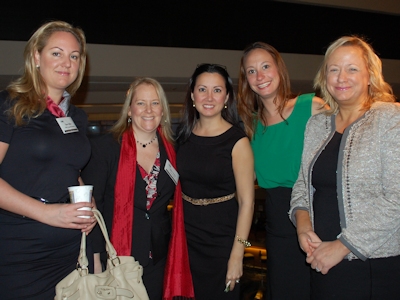 Keller Augusta Partners' Kate Keller, Humanscale's Ellen Hains, WorkSpaces' Mindy Williams-McElearney, Keller Augusta Partners' Jodi Shaw, and Marcus & Millichap's Karen Dome. Good news from the real estate recruiters Keller Augusta—architecture and construction firms are hiring again, particularly in the multifamily sector. And tonight, NYCREW (Karen is prez) is holding a seminar on building your brand in the digital age (more info here).