Sacramento Business Journal by Melanie Turner, Staff Writer
Date: Thursday, April 12, 2012, 6:51am PDT
The Sacramento County Board of Supervisors voted 5-0 Wednesday to move ahead on a proposal for the private development of two hotels on airport property.
Sonnenblick Industries LLC has proposed financing the development of two hotels at Sacramento International Airport , three years after plans for an airport hotel were scrapped because of the flailing economy.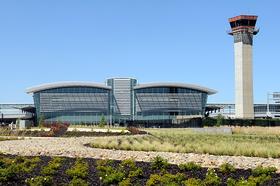 Airport staff will now begin negotiations with Pacific Palisades — which will design, develop and operate the hotels — to finalize other terms and conditions, such as rent. Sonnenblick also will commission a feasibility study.
The board is expected to consider a more fully negotiated agreement at a later date.
Sacramento International Airport opened a $1 billion terminal last fall, replacing a structure that is four decades old with a much larger terminal and concourse.
What had been a nearly $1.3 billion project shrank to $1 billion after airport executives shelved plans for a hotel and parking garage during the recession.
Sacramento International had a hotel on site before the new Terminal B was constructed. The 89-room Host Sacramento Airport Hotel closed in August 2008 and was leveled to make room for the new terminal.
Sonnenblick's proposal was the only one submitted by the Jan. 30 deadline in response to a request for proposals issued Nov. 3.
Sonnenblick proposes a full-service 200-room hotel and a more limited service hotel with 132 rooms.
The company's proposal estimates gross revenue of $19.2 million in the first year and $30.4 million by year 10.
Melanie Turner covers energy, environment, clean technology, agriculture, transportation, media and marketing for the Sacramento Business Journal.