The room may have been full of bedheads, but there were no sleepyheads at our Hotel Investment Summit. More than 300 of you attended the event last week at the SLS Hotel Beverly Hills. OK, it's actually in LA, but we won't split hairs when our keynote speaker was the hotel's owner: Sam Nazarian, founder, chairman, and CEO of LA-based sbe.
Pircher, Nichols & Meeks partner Michael Scheinberg (right) introduced the hospitality impresario, who talked about how he began funding hotel operators while in his early 20s and decided he liked the business. Sam says doing the Viceroy in Santa Monica "opened my eyes" to how the worlds of development, hotel operations, food and beverage, and entertainment coalesced into one property. In 2002, he founded sbe, which now has more than 5,000 employees. Next month he'll begin construction on SLS Hotel & Casino Las Vegas at the old Sahara. sbe will have 3,500 rooms open by the end of 2014 and will be the only operation on the Strip that controls and manages not just the hotel but also food and beverage, retail, and a casino, delivering a life-style value proposition.
Our Summit also featured two all-star panels. The first, moderated by Arent Fox partner Rich Brand, looked at how deals are getting done. Rich's practice is 50% sports and 50% real estate, with the latter focused mostly on hospitality. Our panelists, who included Wells Fargo's Vernon Chi and Starwood Property Trust's Warren de Haan, noted there's much more interest on the debt side in the hospitality space. Warren says the real change is in the CMBS market, which is "now daring" to finance select-service hotels in even secondary and tertiary markets at decent leverage levels.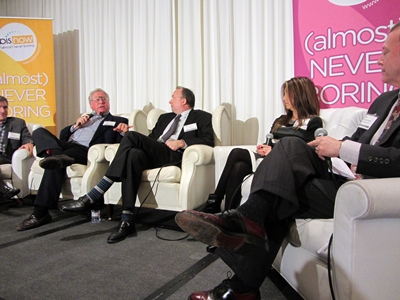 The panel also included Clearview Hotel Capital CIO Tom Naughton, CBRE's Rod Apodaca (who just sold along—with partner Bob Kaplan-the Embassy Hotel Apartments in Santa Monica), and LW Hospitality Advisors CEO Dan Lesser, who says the 24/7 coastal markets are the most desirable-more specifically, the limited or select-service properties. The beauty about this point in the cycle "is that there's a lot of runway left in terms of rebound." Rod expects greater activity in 2013 and 2014, noting supply is so limited that anything that comes out gets bombarded with interest.
Homeier & Law partner Michael Homeier moderated our second panel, dealing with development. Over the past three years, the firm has done close to 100 projects using EB-5 financing. Two-thirds of the money has gone into real estate—hotels made up half. The deal size has gone up considerably, as well—from the first project, a $20M raise for the W Hotel in Hollywood, to $110M for Sam's Sahara project. "This is a real source of alternative financing." The panel included Sonnenblick Development chairman Bob Sonnenblick, who's got eight hotel development projects across the country and the Caribbean, and is actively seeking hotel land, and The Chartres Lodging Group president Maki Bara, who says the company has been focused on redevelopment, having done $800M worth of renovation projects in the past 10 years—in some cases, spending more to renovate a property than the purchase price.
Others on the panel included HKS Architects principal/LA office director Scott Hunter and Marriott SVP Chris Rose, who handles development for the company in the Western US. Chris says Marriott's opening 100 hotels in the US this year and financing depends on the segment. On the full-service side, he's seeing mostly conversions but points to some recent ground-up activity being done by very wealthy individuals that have the banking relationships and can sign on the note or self-finance. Scott says SKS has a "pretty rich pipeline" of projects with a lot of ground-up construction and redevelopment domestically, "if we can get the locks unlocked on financing." But the firm's seeing a lot of growth internationally—especially in China.
While Bob's avoiding the middle part of the country "like the plague," he's heavily invested in SoCal and, especially, NorCal. "We tend to stay near the water," having learned from developing the Loews Hotel in Santa Monica that there's only so much beachfront. His biggest problem isn't financing or city approvals but finding sites. Maki's ideal opportunity would be a deal in which all three legs of the stool—physical asset, brand, and operations—need to be fixed. For Dan, hospitality is a manic business with dramatic high and lows, all feeding back to the constant repricing of guest rooms. To Vernon, it's fascinating that New York has added so many rooms in the past three years, noting "top-line fundamental performances haven't budged an inch."